From @Foxfire40900590:
There is a good chance that #AlitaSequel talks will happen at Disney soon. The news coverage this week indicated this. That alone might not be reason enough to get exited. But Jon Landau also shared on his Instagram a word of encouragement and reinforced his wish for the sequel. All of that is either a very big coincidence or there is something in the bush. And I think it is the bush.
However if there is a chance of actual sequel talks happening, then I would like to support Jon Landaus ambition to get us the desired #AlitaSequel with some support of our side. Us The Fans.
And if by any means there is nothing happening (what I don't think), it is time to rattle the cage anyways. That's what we are here for. To get ourselves heard.
A few of you might remember the plane over the Oscars. That's something that got a lot of attention. Alita got snubbed that day. And we came and put her on a spot of her own. Right at the top. That made news. And we need more actions like these to get her to the right place. And us the sequel.
…
I think all in all this is great opportunity to make some noise and support Jon Landau with his sequel efforts. Because no matter what he wants it as bad as we do. The whole cast wants it. It is just a matter of convincing the people with money. And recently we see other fandoms doing progress as well. The movie industry wants new stuff and needs the people. And here we are with a juicy IP that can offspring movies, series, games and so many more. And we will make them see. So let's do what we are good at.
Donate to the billboard fundraiser here: (deactivated)
UPDATE: The fundraiser for the electronic billboard in Los Angeles went extremely well. The response of the #AlitaArmy and friends to the call was overwhelming. The 7-day campaign was fully funded in just 6 hours! We can't thank you enough for all your support.
But unlike our other fundraisers, where we kept collecting for charity after the goal was reached, this fundraiser was closed on completion. Some who wanted to give to the campaign missed that small, 6-hour window, and felt they'd missed out. Yet as it happens, they haven't!
Funding the billboard was great, but there is always more we can do…​
Rather than running the billboard funding collection past its stated goal, we decided to dedicate part of the advertising on the actual billboard to charity, linking it to the Sequel Push AND the #AlitaArmy in public, rather than within the confines of the online fundraiser only we were likely to see. This sends a clear message to the public who will see the ads on the billboard: that the #AlitaArmy is a positive fandom that wants to make a difference in the world while we campaign for our Sequels! A charity collection will run during the week of the billboard advertisements (details below), and we advise all those who felt they'd missed out on helping fund the billboard costs to give to this campaign.
The recent Cinemablend article about the billboard collection and the #AlitaArmy, sums it up nicely.
"Much as the Alita Army has in the past, it's the right time for Alita: Battle Angel's fans to keep raising the profile of this potential sequel. With many charities looking for contributions to combat the current worldwide health crisis, the philanthropic backbone of this powerful fan collective has plenty of chances to keep the message growing, while helping those in need.​"
https://www.cinemablend.com/news/2546773/alita-battle-angel-producer-sends-a-funny-message-to-fans-demanding-that-alita-sequel​
So, What Are We Doing?
The billboard campaign will run from the 1st of June until the 7th of June @:
3680 Wilshire Blvd #101
Los Angeles, CA 90010
United States
Our Video Material for the Billboard
Video 1 by FoxFire:
A call to support people in need due to the current health crisis. The link in the clip leads to this fundraiser.
Link

Video 2 by TheLast_300:
This clip teaser is story-focused and should give a glimpse of what people can expect from an Alita sequel based on the Mangas.
Link
Iron City scape made by Izan Ramos
Alita edited by Alita Underground

Video 3 by FoxFire:
Testimonials of the Stars of Alita who want to come back for a sequel.
Link

Video 4 by Ben_Pooliey_YT:
A call to join the AlitaArmy
Link
Intended Recipients for Raised Funds
The current health crisis (global pandemic) and the shutdowns associated with slowing the spread have lead to job losses and financial hardship in many parts of the world. Food, water, and shelter – the basics of living – are unavailable to those in hardship. This happens in the US as well as in many other countries. The decision to help on a national OR international level is challenging. So we decided to support two different organizations equally, one with a national focus and one on an international level.
Half will go to Feeding America.
https://www.feedingamerica.org/

The other half goes to Action Against Hunger which operates in the poorest 50 countries.
https://www.actionagainsthunger.org/

Both these causes do great work for those in need, and we hope the Billboard will attract donations from philanthropists both within and beyond the ranks of the #AlitaArmy, amplifying our social reach and our message simultaneously.
Both these causes do great work for those in need, and we hope the Billboard will attract donations from philanthropists both within and beyond the ranks of the #AlitaArmy, amplifying our social reach and our message simultaneously.
But Wait! There's More! Follow Rosa Salazars Lead (Extra-Level)!
Rosa Salazar has recently shared an Amazon wishlist with necessary items for homeless people living on the streets of Los Angeles (people whose lives are heavily impacted by the consequences of the pandemic). This fundraiser is local to the billboard, and important to our Battle Angel! Rosa worked with local support groups personally on the streets and supplied the homeless with necessities like tents, sleeping bags, hygiene articles of all sorts, band-aids, and much more.
It is a very great thing but sadly we can't cover this with our fundraiser, but we felt we should link to this. It is more tailored for individual support. So if you want to help in this regard then follow the Amazon wishlist link that is down below.
This is the link to the wishlist: https://www.amazon.com/hz/wishlist/ls/2EP5MXX1N23Q3/ref=as_li_ss_tl?_encoding=UTF8&type=wishlist&linkCode=sl2&tag=74200e-20&linkId=b8efdf1669e592b03cbd933b97b34ce6&language=en_US

Article in the AlitaArmy-Blog:
https://alitaarmy.org/2020/05/15/rosa-salazars-cha…

One Last Reminder!
To be clear the original billboard is fully funded and will run without any additional money. What we are doing now is going the extra mile to help out people in distress! So there is no obligation, but everybody is welcome to join us in the sun.
Thank you for reading.
Go to the charity fundraiser page by clicking the image below:
UPDATE: The billboard is now displaying in Los Angeles. Special thanks to @AdQuick for their service.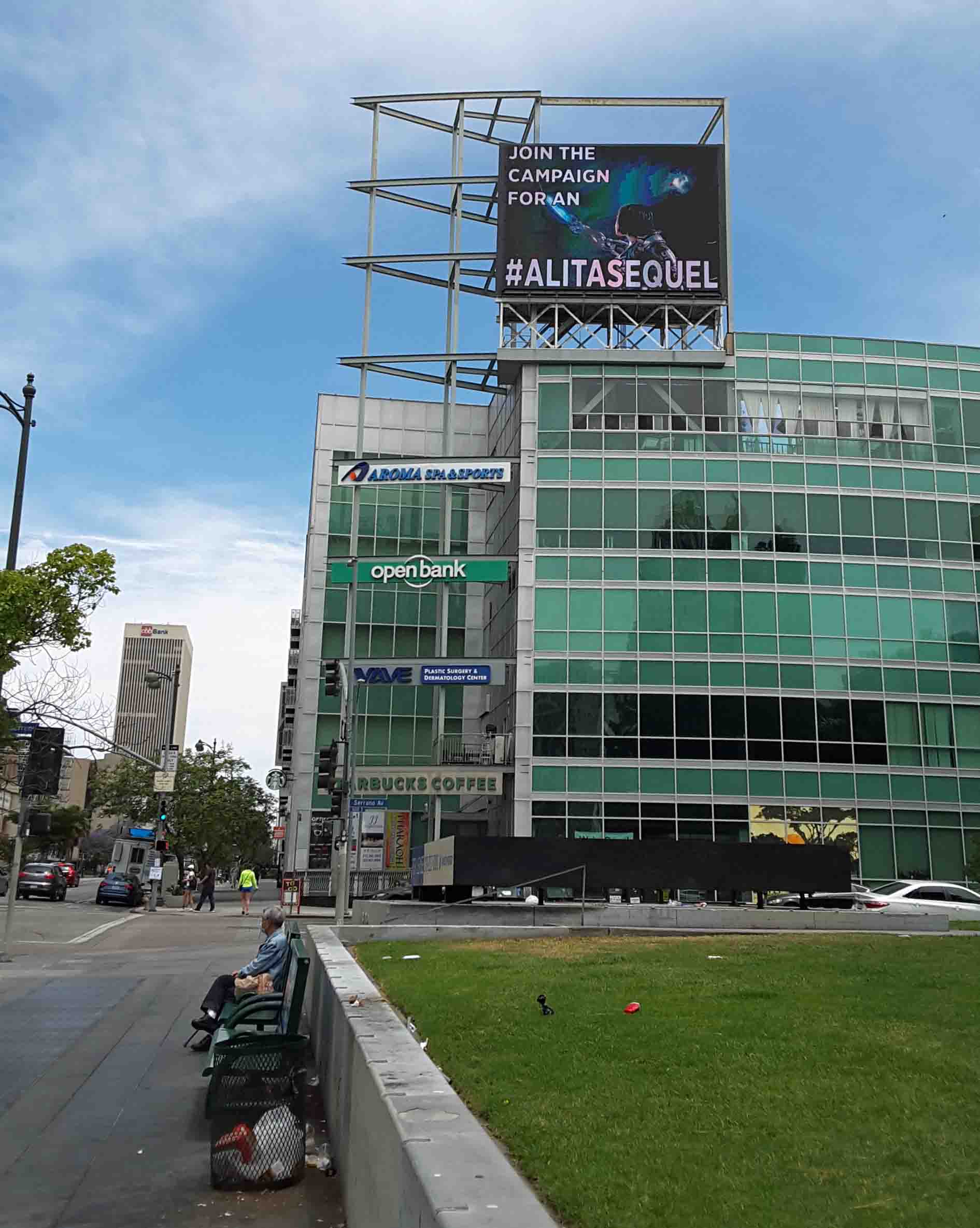 See more at the link below:
https://alitaarmy.org/2020/06/01/the-alitasequel-billboard-is-visible-in-los-angeles-now/